A Film and Video Production Department dedicated to preparing students for a higher education in Broadcast.
WALive is Woodward Academy's multi-camera broadcasting channel. Students write, produce, and host a morning show that is broadcasted to the Upper School almost every morning. They learn video production through hands-on experience while cultivating their talents in directing, script-writing, editing, and producing. Our goal in this program is to teach students critical thinking skills, encourage teamwork in class and on set, and expose them to a variety of potential careers in the film and tv industry that they can pursue after they leave our program.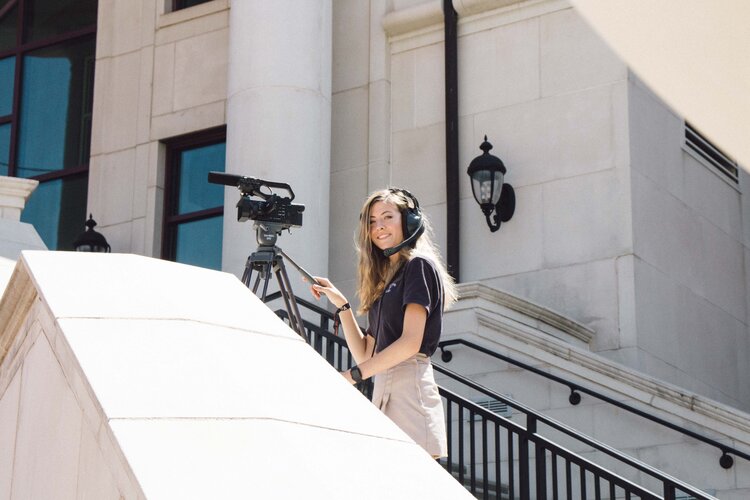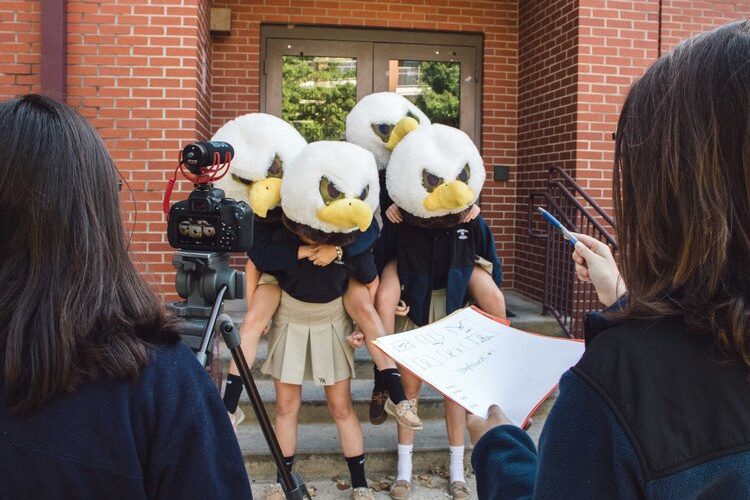 We broadcast live morning announcements daily to the Upper School student body and twice a week to the Middle School as well as some Varsity Sports games and Performing Arts Events K-12 from our main campus and other events throughout the school year.
Varsity Sports teams include: Football, Soccer, Lacrosse and others.
Performing Arts Events included: Orchestra, Choir, Band, Dance, and Jazz Band (this includes PS, LS, MS, and US performances)
Other Events included: Primary School Halloween Parade, Homecoming Parade, Founder's Day Parade, MS and US Talent Show, Shakespeare Sonnet Slam, Signing Day, and more.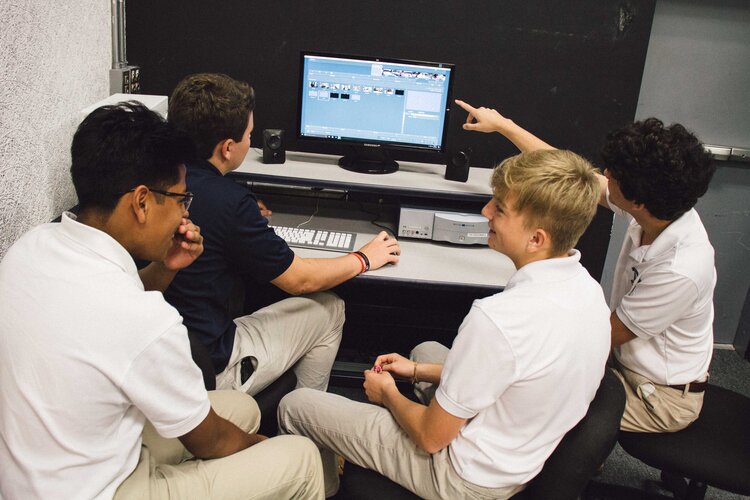 From 1966 until 1998 the television program at Woodward Academy functioned as a service club that met four mornings every week to broadcast live announcements to Upper School students.  Middle School students had a similar club that broadcast once a week.  Since the fall of 1997 to present, the program has shifted its focus. WALive is no longer a club; instead, students are evaluated and graded on their technical as well as creative skills in the field of video production.  The program centers on shot composition and coverage, audio and lighting, and places emphasize on editing and editing principles. Students become a part of WALive by signing up for classes offered through the Performing Arts Department in the Upper and Middle Schools.
WATV / WALive was initiated by Capt. William R. Brewster, Jr. in 1966 and was located in Brewster Hall in the Upper School. Realizing many students were not listening to morning announcements over the intercom, he felt the medium of television would be more likely to hold their attention, especially when the information was produced and aired by fellow classmates. With $85,000, Capt. Brewster converted two classrooms in Brewster Hall into a high-tech closed-circuit television station that reached all classrooms in that building on channel 4. Today, the Video Production Department is located in Richardson Hall (built in 1978) and broadcasts 7 Morning Shows a week. The Film program of our department was implemented in the Fall semester of 2019.
The Lower School broadcasts live morning announcements five days a week to students in Thomas Hall. Woodward North offers a TV class to fifth grade students, where once a month they write, produce, tape, and air Woodward North News.